Our newsletter and LoveCrafts Facebook pages are also a great way to find our latest deals and promotions.
If you are a new customer, you can receive 15% off your first order as a welcome from us! Simply sign up to our newsletter!
Enter your email address in the white text box at the bottom of the page and click 'Sign Up'.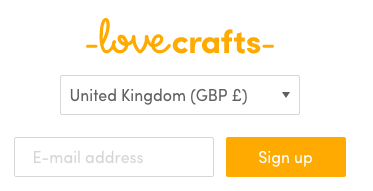 A welcome newsletter will be sent to you within an hour, full of great offers and discounts, free patterns, crafty news, and your welcome discount code!
We promise not to pass on your details to anyone else. Subscribing to our newsletter does not create a customer account. You can
create an account here
.