To sign up for a customer account, click the 'Account' icon in the top right corner: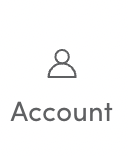 This will prompt you to enter your email address and to create a password.
If you'd rather, you can follow the buttons below it to create an account via your Facebook or Google account. Don't worry if you don't have accounts with Facebook or Google – all you need is an email address to create an account.